Security Information & Event
Management (SIEM):
Correlate and Analyze Security Events
Across Time and Contexts
SIEM, or Security Information and Event Management, combines log management, event correlation, and security analytics. The effective use of SIEM enhances a Security Operations Team's ability to detect, contain, and mitigate threats.
EMBER's Security Information
& Event Management (SIEM)
SIEM integrates the software and security appliances used to monitor corporate infrastructures. It consolidates all security data in one place rather than spread across your network, making it easier to detect, respond, and recover from potential security threats. SIEM's 'single pane of glass' provides a single, birds-eye view of your entire network, simplifying security management and compliance.
Simplified Security Management Equals
Better Response Times
SIEM is an indispensable security tool used widely by enterprise cybersecurity teams.  Unfortunately, because of its complexity, SIEM is often overlooked or cast aside by smaller organizations and teams. Many compliance frameworks require the collection and retention of logs, recorded events or activities generated by software, systems, or applications. Aggregating logs in an SIEM checks this box but only scratches the surface as far as security goes.
Think of SEIM as a vigilant, obsessive, inexhaustible correlation robot, perpetually deconstructing, normalizing, and analyzing log information within a security context created by algorithms, artificial intelligence, machine learning, and questions asked by humans.  This context is known as a correlation. For example, one common correlation is "impossible travel" – if a user is currently in London, how can she be trying to log into an on-prem, physical server in Philadelphia without while not connected via VPN?
Security event logs, collected from network devices, servers, applications, and security appliances, are the lifeblood of SIEMS, enabling them to enhance threat detection, incident handling, and IR operations by correlating and analyzing these events in near real time. 
Used effectively, SIEMS improve a Security Operations team's ability to
Identify and respond to security breaches, unauthorized access attempts, malware events, and other malicious activities;
Sustain compliance objectives such as those defined by General Data Protection Regulation (GDPR), the Payment Card Industry Data Security Standard (PCI DSS), and the Health Insurance Portability and Accountability Act (HIPAA);
Generate reports and audit trails necessary for compliance audits;
Leverage threat intelligence feeds and databases, which provide hyper-current information on known malicious actors, attack vectors, and IOCs;
Identify patterns, signatures, and anomalies that may expose dormant security threats and malicious insider activity; and
Conduct post-incident forensics.
Log Correlation and Analysis
SIEM tools employ advanced analytics techniques, such as rule-based correlation, statistical analysis, machine learning, and behavioral profiling, to identify patterns and anomalies in security event data. This correlation and analysis help in connecting the dots across multiple log sources and detecting complex attack patterns that may otherwise go unnoticed. It improves the accuracy of threat detection and reduces false positives.

"SIEM is an important part of an organization's cybersecurity ecosystem, giving security teams a central place to collect, aggregate, and analyze volumes of data across an enterprise. It also delivers compliance reporting, incident management, and dashboards that prioritize threat activity."
The Role of SIEM in Business
SIEM provides incident response capabilities by enabling security teams to investigate and respond to security incidents in a timely manner. It facilitates real-time alerting, automated response actions, and workflow management, streamlining the incident response process. SIEM tools also provide historical event data for analysis and root cause identification.
Analysts configure a set of correlation rules to detect possible threats according to your recommended security policy.
Sentinel (Microsoft's SIEM solution) ingests data from multiple tools, including Microsoft 365, Cloud App Security, and Microsoft Defender. EMBER's SIEM solution automatically analyzes data and runs queries to pinpoint any suspicious or malicious activity.
Automated responses will then suspend suspicious user accounts and alert an on-call security expert.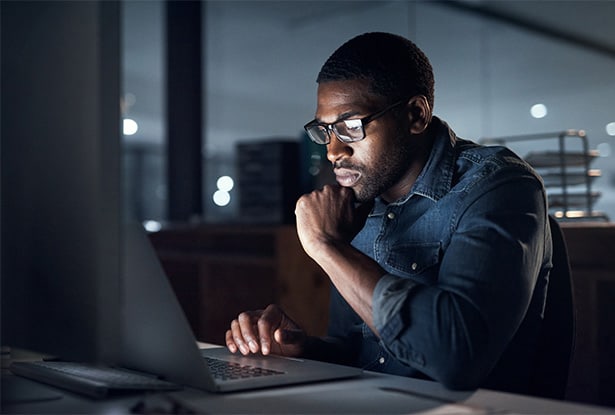 Learn how EMBER's SIEM service can improve your network visibility and security management.